This July and August, I performed on board the Celebrity Solstice on the seas between Seattle and Skagway.   Most performers work on ships for a week or two at a time – it was a unique experience, tasting life at sea for two full months.
The Solstice is the largest ship in Celebrity's fleet – it's staffed with 1,200 crew members who serve some 3,000 passengers every week.  …But what makes the Solstice so special?  It's got a number of amenities that are unique to the ship, including::
– A glass blowing studio (The world's only all-electric setup, apparently.)
– A two-story tall wine rack that holds some 2,800 bottles of wine (According to the HR team, this is one of the best examples of "modern luxury" on the ship.)
– A lawn (?!) on the upper deck (Really. Lush, live grass growing on deck 15.  Bocce tournaments all week for the guests!)
– An Apple store (Apparently this is a big deal when the ship sails around Europe.  In the US, folks aren't quite as impressed.)
– A 12-deck-tall atrium in the center of the ship, complete with a living tree suspended in mid-air.
There's a lot more to the ship than that, but I'll let you look that up on your own.  If you want to see more about the Solstice, check out Celebrity's website.
It's pretty amazing, when you about the ship's scale – it's bigger than most luxury hotels you'd find in the US – and it floats on the open ocean…  With enough provisions to sustain itself for a week straight.  The Solstice has a sailing capacity of 4,000+ including crew, which makes it over half as populous as the town where I live in Vermont.  Unique situations make for unique solutions – with 4,000 breakfasts to make every day, the Solstice needs an entire room on deck 2 to store eggs (according to the galley tour guide, 240 dozen eggs are consumed on the ship every day.)  The forward half of deck 2 also houses the meat lockers, a few prep kitchens, freezers, fridges, and the like.  It's no trivial thing – over 170,000 meals are prepared each cruise for the guests alone, and all of that food has to be loaded on each week in Seattle.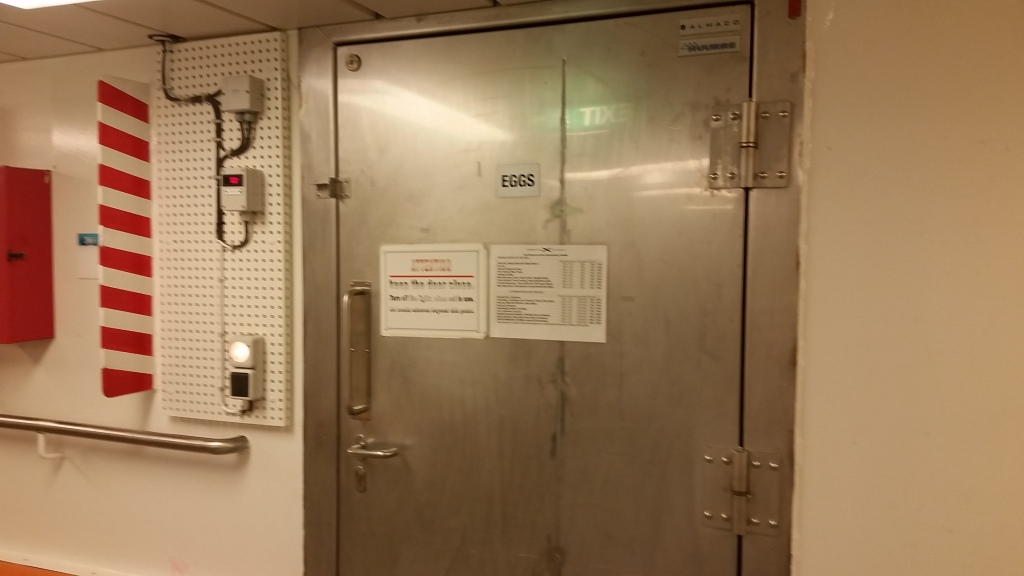 Having such a large number of people in one space calls for unique health and safety measures, too — and it all starts before you get on board.  The first thing you do when you're offered a contract is go get an extensive physical. The clinic checks your blood for illegal substances, vaccination titers, cholesterol levels, and other potentially disqualifying things – they take a lot of blood, so prepare to get light-headed.  They also take an EKG, x-ray your chest for tuberculosis, check your vision, and test your ranges of motion.  A urine test backs up the results of the blood drug test, and also serves as a test for diabetes.  The battery of tests takes about four hours, and you get results a few weeks after you go in.  While you're waiting for those tests to come back, you submit paperwork for background checks, send in your costume measurements, study videos of the show, and sign documents in triplicate.
All of this is doublechecked when you first sign on to the ship, before you set sail.  It's a good thing, though – they take health seriously!  Contagious diseases spread like wildfire on a ship.  There's evidence of this concern all over the ship – from fistbumps instead of handshakes, to wash-your-hands videos played in passenger assembly drills, to Purell dispensers at every turn.
You're also not just an entertainer – you're crew.  Beyond the weekly lifeboat drills and emergency trainings, your first two weeks on board will be filled with crew training sessions.  You're given a written test about the ship's safety procedures every contract, and if you don't pass, you're obliged to further training.
But- on with the show! The Solstice Theater can seat  around 1,200 people, but routinely holds more in the standing-room and handicapped areas.  It's a gorgeous space with a luscious red curtain, little stage elevators reminiscent of Radio City Music Hall, and an enormous upper balcony (not pictured here.)
I was hired as the special "Guest Entertainer" for the production shows on the ship.  A week at sea means a week of nightly entertainment for the guests.  Besides fly-on singers, comedians, and other acts that come for a week or two at a time, the ships also have a live-on repertory cast for three production stage shows. This cast is composed of  singers, dancers, and circus performers who are featured in each show.  On the Solstice, we performed Ghostlight (a Broadway-style revue show that highlighted the dancers,) Pulse (a 90s and 00s rock-and-roll show where the dancers were really featured,) and Solstice: The Show (a cirque-noveau show where the circus performers were the main attraction.) Just like any production show, even if you're doing a full number in the show, you'll still have cues when you're not in the spotlight.
The Solstice show had it all – a world-class hula hooper, an outstanding handbalancer, silks, adagio, and more.  I performed my mouthstick and ball juggling numbers.  The ball juggling was interesting in that I was assigned backup dancers.  That's right — backup dancers.  A group of four classically trained dancers from all over the world, adding some flavor to my juggling.  Can't make that up.
The mouthstick number was a shorter, tighter version of what I presented at the Riga International Circus festival in Latvia.  All the big images, but condensed into three minutes.  What a reblock that was!  Balancing a sword on a knife point is tricky on a moving ship, I'll tell you what.
The rocking of the ship makes everything harder.  My first week on board, I made a point of training and rehearsing an average of six hours a day.  This was in one part to get back "in my body" and ready to perform a technical ball juggling act several times a week (the numbers I presented in Solstice were more acrobatic and technically difficult than my numbers in The Dinner and a Show Show.  Benjamin and I had finished our run in Orlando just before hopping on the ship.)  This schedule helped knock the rust off of the routines, but also gave me plenty of time to feel out the motion of the ship and get accustomed.  You can only get so accustomed to the ocean, though – there were some tech rehearsals where I almost fell over during my glass balancing number because the seas were so choppy!
It's all a matter of timing – will the ship be in an exposed area when your show is going on?  We performed Ghostlight and Solstice on the rockiest days, when the ship was at sea.  I would train late at night on the first day of the cruise when we left Seattle, but always had to stop around 1:30am, when the ship left the Inside Passage.  We we left the protection of Vancouver Island, the ship would rock so wildly that it was impossible to stay focused.
One of the realities of working on a ship is the difficulty of finding practice space, as well as practice time.  Since there are so many shows going on every day, and so many buyouts on the ship using its facilities for the week (a "buyout" is a special interest group that rents a block of rooms on the ship and uses the theater and convention space as a setting for an annual meeting or other week-long event,) it can be tricky to find a quiet space to rehearse for a few hours.
This picture isn't totally fair – it was taken backstage the week one of the shows on the ship was loaded out – but it illustrates the point.  When you need to practice, you need to practice!  When I had access to the stage, though, I made the most of it.  Here are a couple of things I worked on this cruise season:
The schedule varies from day to day, but there's always a tech rehearsal before a show.  Internet is expensive and slow on board ($0.79 / minute for passengers, $0.19 / per minute for crew – maximum 15kb/s,) and cellphones don't work at sea, so the next day's schedules are given the night before through voicemail.  These messages can be long, so you're wise to scribble them down as you listen to them.
The ship's cast of circus acts, singers, and dancers came from all over.  The show was composed of performers from the Philippines, the Ukraine, England, Australia, South Africa, Colombia, the United States, Russia, and Romania.  (Any guesses which one of those countries the other circus acts were from?)  When they're not on a ship contract, they're training at home… though those times can be few and far between.  One of the dancers in our cast was on his tenth year working at sea!  It's not surprising that many cast members are married to one another or are in relationships on board.
The ship, like the cast, represents many countries. Despite the range of nationalities and linguistic heritages, there are rarely communication issues.  Celebrity hires mostly non-native speakers of English, but they make sure that everyone on board has a level of English proficiency.  As with any standardization like this, though, people fall through the cracks – I've heard of employees hired for positions with heavy guest interaction being let go because their language skills weren't up to par.  Guest areas are "English Only Zones" and getting caught speaking anything else around guests can be grounds for dismissal.  However, the company encourages employees to respond in the language that guests approach them  in if they are proficient, so you'll often see French guests joking with Hatian room stewards as they walk down the halls.  I've had the pleasure of many conversations in Spanish and German with guests in restaurants and around the ship, as well.
Employees live on decks 3, 2, and 1.  Most employees have double occupancy rooms, and many of those rooms are "flip flops" meaning they are equipped with folding murphy beds.  I lived in a single room with a permanent bed, desk, and bathroom – it had enough room to spread out a bit and live in, just no porthole.  My neighbors, on the other hand, were a married couple in a giant room – a full bed, two desks, a couch, and coffee table.  Oh, to dream.
Down below, there's a crew bar, the crew mess, administrative offices, training rooms, and more.
Chris, pictured above, was one of the musicians on board.  The ship employs a party band, a guitar duo, a guitar soloist, an entire orchestra, DJs, and a bongo accompanist for the disco (Really. He's amazing.) These folks play all over the ship, in all kinds of settings.  In the shows, in the lounges, alongside guest entertainers, and by the pool.  When the orchestra backs fly-on singers who perform their own hour-long program on a cruise, they often only have an hour's tech rehearsal, then sightread the entire show that night.  Those guys are true heroes. They have some unique challenges, too – for example, humidity varies from day to day, from port to port.  This means that house band members need to have a huge array of reeds for their instruments – something that will work for any climate.
The reward, though, is that we get to see some pretty amazing stuff.
There's more to the job, of course, but that's the long and short of performing on a ship!  I'm looking forward to doing it again soon.
Leave a comment below if you have questions I didn't address here!
https://thomwall.com/wp-content/uploads/2015/09/TwoMonthsAtSea2.jpg
360
1030
Thom
https://thomwall.com/wp-content/uploads/2017/04/Thom-Logo-Blue-com-300x137.png
Thom
2015-09-09 06:09:34
2015-12-11 22:09:18
Two Months at Sea